Time After Time

Design Challenge: Leverage the medium of a compact, street-accessible shop window, to explore the possibilities of exhibition making in the midst of a global pandemic, culminating in a two week physical/digital exhibition and complementing publication.

Duration: 8 weeks

Role: Project Lead

Project Overview: The Future Will Be Windows was a one-month-long exhibition sequence co-organized by students in the Curatorial Practice and MFA Design programs at California College of the Arts. Leveraging the medium of a compact, street-accessible shop window, it explored the possibilities of exhibition making in the midst of a global pandemic, when most art venues had been closed for a year and essential exhibition components like physical space and live audiences pose a challenge.

As part of this exhibition series, Time After Time sought to focus on the theme of attention. We looked at the birth of the 24-hour news cycle in 1979 as a departure point for the state's scramble for public attention. Reflecting on media headlines in 20-year increments, we considered questions around repetition, distraction, and urgency. We drew content from various viewpoints, as we examined the confines of the filter bubble and how news shapes our reality.

Working as the project lead, I facilitated collaboration with students across disciplines, countries and timezones to create a physical exhibition with a digital counter presence.

Tools: Mural, Sketchup, Illustrator, Indesign, Instagram



Brainstorming

We began the process with a group brainstorming session. After reading Hans Ulrich Obrist's "
What is the Future of Art
" we had an hour long conversation discussing themes and ideas that stood out to us and that we thought would make compelling exhibition concepts.
We then reviewed and grouped all our ideas and narrowed down our focus. We left the brainstorming process having defined the 24 hour news cycle as our exhibitiont topic.
Design Iteration 1

We began the design process by translating our brainstorming into visual representations of our ideas.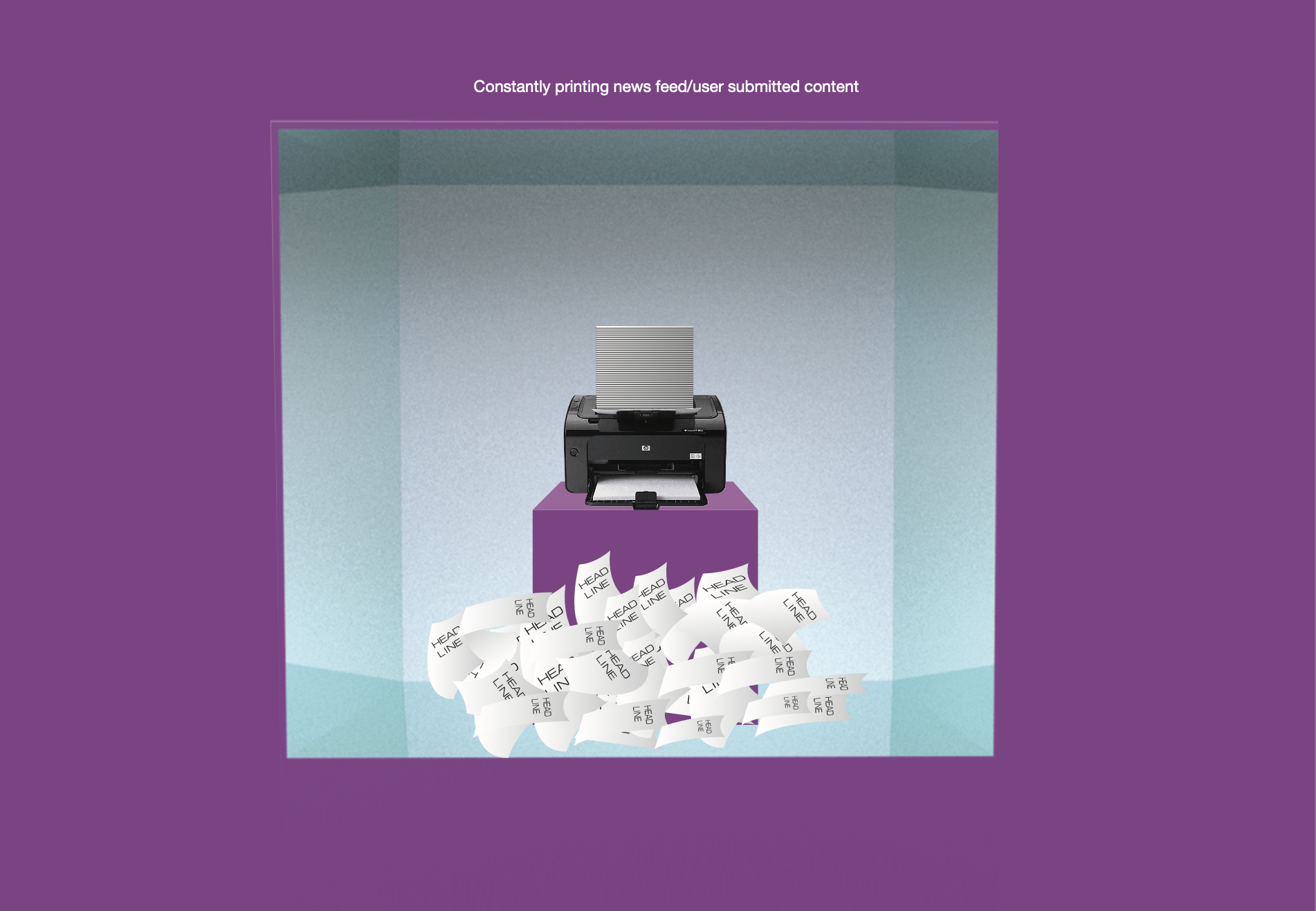 Archival Research

Our group spent lots of time digging through digital archives to find content for the exhibition. Because of the international nature of our group, we decided to include media from the countries where people we located.
Design Iteration 2

After receiving feedback from our classmates we decided to move forward with the design of using the sides of the window box as our primary exhibition space. By choosing not to put it on the central wall, the exhibit would require more active attention from the viewer to digest the material.
Our research into the origins of the 24 Hour News Cycle (which began with the hostage crisis of 1979) helped us decide to break up the exhibition space into three sections: 1979, 2000 and 2020, dates that are both evenly spaced, but also significant dates in the history of news and media (Y2K, fake news and bipartisanal polarization).
Visual Language and Graphic Identity

Because the entire exhibition would be using printed ephemera from a variety of news sources, we wanted to create a visual language that would create a coherent look. We decided to print all the material using a risograph, colorizing each time period.
We began exploring exhibition poster options, drawing type faces from each time period.
Our final exhibition poster captures the cyclical nature of news we were trying to capture in the exhibition, while showcasing the artifacts from our exhibition.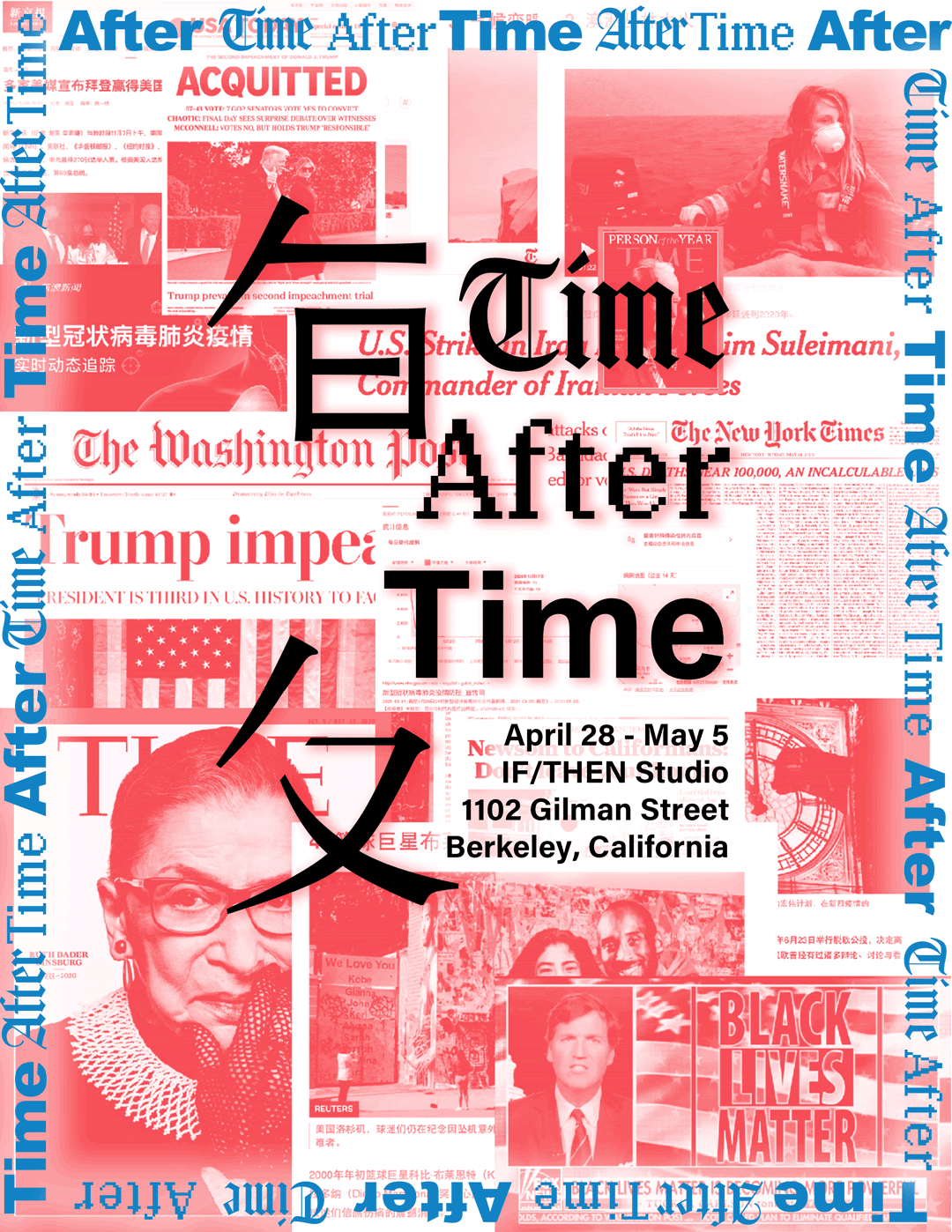 Physical/Digital Exhibition

We wanted to have our exhibition reach as large an audience as possible, so we decided to host it both physically and digitally.
The physical exhibition was installed in the window if IF/THEN in Berkeley CA. We used mylar and the reflective surface of the window to add dimensionality to the installation. We also employed streetside advertising to direct viewers to the exhibtion.
Using the CCA Design instagram as our digital platform, we tried to create an experience that was similar to our physical exhibition.
Tiles were swipable, allowing viewers to uncover each artifact.

Exhibition Publication
Our designed a new print exhibition catalogue to acompany our installation. The catalogue documents the design process and the artifacts included in the exhibtion.